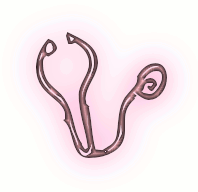 How can I put this........While in the shower last week I discovered a lump sort of on my back. I have seen the Doctor today and I will be having surgery at some point in the next week or two. My Doctor seems to think that Bob is benign. I have an appointment with the surgeon on Monday the 23rd to find out when. If all goes well Bob will be a not too fond memory in about a month.
Meanwhile, while I am recovering from Bob's removal my husband will be taking care of the kids and house! Bets on how long I will be down? I give myself 1 day!
Anyway, I'll let you know more info when I get it.